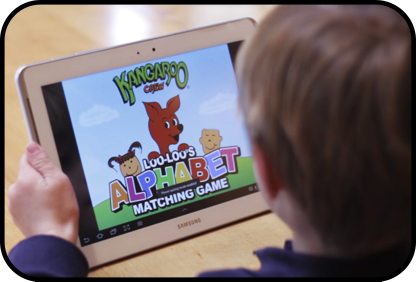 The Kangaroo Crew development team is dedicated to helping every child LOVE to read. Our products are created by teachers, parents and authors whose goal is to make the discovery of letters and words fun. Our products are continuously tested by diverse groups of children from inner city schools and child care facilities. We improve them based on the data and feedback we receive from the children, teachers and parents. All this is based on our belief that early reading skill development fosters later school success.


Our Mission


Our mission is to encourage and build confidence in every beginning reader in an entertaining way, with the goal of establishing a lifelong love of reading.


About Whisper Productions, Inc. – Kangaroo Crew – Development Team


Producer: Lois Mancuso

Lois A. Mancuso has devoted her professional life to children and learning. She holds a masters degree in education and has taught in public and private schools in New York and New Jersey. The Kangaroo Crew flows from her deeply held belief that everyone can read.


Associate Producer: John Higgins

John J. Higgins is the author of the Archangel Jarahmael and the War to Conquer Heaven novel series and a retired Deputy Attorney General for the State of New Jersey. Statewide childrens' issues were among his numerous duties in government. Find out more…


Art Director: Robin Barkley

Professor Robin Barkley is director of the Animation and Graphic Design Programs at Fairleigh Dickinson University. She has a wealth of experience in the digital arts industry and has been creating animations, interactive games and apps, websites, and print materials for a host of clients since 1989. Find out more…


Sound Design: Joe DeVico

Joe DeVico, who began playing drums and piano as a child, has been teaching music privately for over 20 years. He attended Indiana University's School of Music ,where he majored in Jazz Studies and Percussion Performance. He is an active studio musician, playing on more than 22 albums throughout his career and has also written music for radio and television. Find out more…


Music: Joe DeVico and John Shine
Lead Programmer: Paul Becker

Paul Becker is co-founder of Blindhack Software and an adjunct Professor of 3D Video Game Creation at Fairleigh Dickinson University. Through his natural approach to programming and his passion for immersing himself in code, he and his company have been building reliable, portable and beautifully programmed apps and games for the past several years. Find out more…


Marketing: Max Becker

Max Becker is Co-Founder of Blindhack Software and adjunct Professor of Animation and Video Game Creation at Fairleigh Dickinson University and Sussex County Community College. His skills include film editing, animation, graphic design and web development. As our marketing advisor, Max provides cutting-edge initiatives to introduce The Kangaroo Crew products to parents and educators around the globe. Find out more…


Voice Talent: Lani Minella

Lani Minella is a voice actress who founded and owns the voice-acting agency AudioGodz. She has voiced about 500 computer and video games and several TV and animated series ,as well as sound-alikes for hundreds of celebrities and famous cartoon characters. Find out more…